Bake House Breakfast
The best breakfast in Groton is great for mid-morning when you are on the go! Village Bake House breakfast sandwiches and wraps are made to-order with the same attention to detail as our lunch classics.
       Breakfast brought to your door??? Village Bake House on GrubHub, DoorDash & UberEats
Add a Hot Hash Brown Patty to any Breakfast Sandwich/Wrap $1.50
Buffalo Blue Breakfast Wrap
2 Eggs, Buffalo Chicken, Roasted Red Pepper, Crumbled Blue Cheese and Diced Avocado $9.99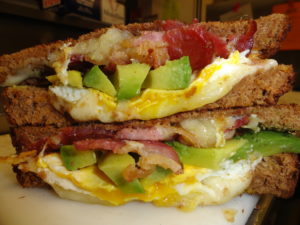 Bacon, Egg & Avocado Melt – $8.99
A fried egg with bacon and avocado on Indian Grain bread with cheddar cheese.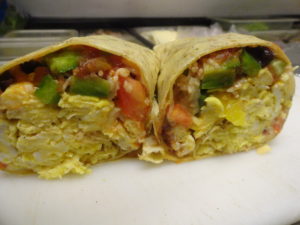 Bacon Egg & Gouda – $8.99
Fried egg, Bacon and smokey melted Guoda cheese on a Kaiser roll with Roasted Red Pepper and a hint of our own, homemade Creole Sauce. 
Breakfast Burrito – $8.99
2 eggs, pepper jack cheese, diced tomato, green pepper, black beans and salsa.

Broccoli Bacon Wrap – $8.99
2 eggs, broccoli, bacon, diced tomato and pepper jack cheese.
Sweet Roasted Wrap – $8.99
2 eggs, bacon, sweet red pepper, scallions and cheddar cheese.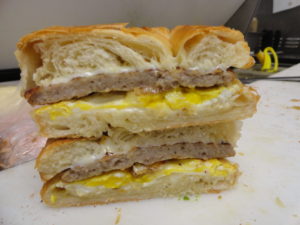 Sausage, Egg & Cheese on Croissant – $5.99
Bacon, Egg & Cheese on Croissant – $5.99
Ham, Egg & Cheese on Croissant – $5.99
Add avocado or extra egg to any breakfast sandwich – $1.00
Add meat or extra meat (bacon, sausage, ham, chicken) to any breakfast sandwich – $2.50
Breakfast served Monday – Friday until 11:00 am
 
Phone   (860) 445-8292